Deploy an automatic door control system from HiTech today to effectively operate your automatic doors.
No project is too big or too small. Give us a call now at 1-800-INTRUDER.
Programmed doors do not just improve the appeal of any office, but also make straightforward entry for incoming and outgoing passerby activity. This same technology can benefit businesses that utilize forklifts and other substantial machinery and equipment.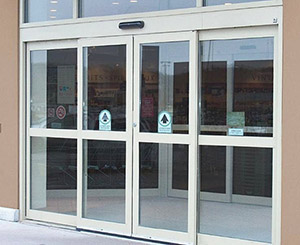 Handicap (ADA) capacity operators may be surface mounted to a new or existing entry to make a passageway that may be easily and safely used by individuals utilizing wheelchairs or walkers. These surface mounted operators moreover help clients with strollers, trucks, or large loads, who may generally not have the ability to enter or exit your business in a safe and simplistic manner.
HiTech's Automatic Door Options:
Sliding Doors
Revolving Doors
Swinging Doors